This review by Tim Gaden of
Hawk Wings
has been reproduced here because the original link is no longer valid.


OmniGrowl is described by its developer as "an expandable framework for sending Growl Notifications for applications that do not natively support Growl".
(
Growl
is a pop-up notification system for OS X that installs itself as a Preference Pane. Depending on how you work, Growl can either enhance your productivity or distract you to death.)
Once installed, users can set it through Growl's main preferences to provide alerts from iCal, Address Book, iTunes, power status changes (battery or AC), RSS feed alerts, SMART hard-drive failure reports, alerts from Software Update and more.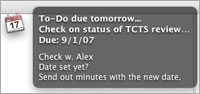 It offers a full range of options for iCal alerts, each of which can be set independently or even switched-off altogether: Alerts for iCal events in one hour, 30 minutes or 10 minutes, alerts for all-day events and to-dos the day before.
Alerts can also be set for birthdays stored in Address Book and iCal.
In deference to
GrowlTunes
and other modules which display iTunes track changes, its iTunes settings are turned off by default. Still, the developer includes it as a way of making OmniGrowl a comprehensive app and potentially to reduce the number of apps one needs to run.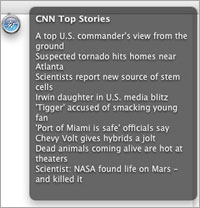 It can also display hourly alerts from RSS feeds. CNN, BBC and The New York Times are included by default, but the interface makes it easy to add extra feeds (up to 16 in total) that you particularly want to keep an eye on.
A recent update adds support for AFP alerts, "a pretty specialized need" that lets you know when AFP users connect or disconnect to your computer.
If you live in Canada (oddly the home of
a disproportionate number of Mail.app-related developers
), it now also tells you about local concerts and events by polling the Canadian OnTour web site.
It is open source and designed with customisation in mind (source code and some instructions included).
OminGrowl is donation-ware and available from
the developer's web site
.